Overview
Brunei Darussalam established the Brunei Climate Change Secretariat (BCCS) on 28 July 2018. BCCS is a government authority mandated to develop, implement, monitor and evaluate Brunei Darussalam's climate change policies, strategies and actions. In the near future, BCCS is planning to publish a Mandatory Reporting Directive along with a centralised inventory system software. The directive seek to promote transparency and robustness in the national carbon emissions and sinks data, intended to provide a better understanding of the level of GHG emissions.
Voluntary actions by non-state actors
BIBD
BIBD Sustainability Framework - Announced commitments of BND$2billion to support key areas under environmental protection, responsible entrepreneurship and inclusive social impact.
Signing MOU with the Brunei Darussalam National Council on Climate Change to establish, promote and develop cooperation between BIBD and BNCCC in advancing climate action solutions to Brunei's carbon emissions and establish climate-resilient pathways for a sustainable nation.
ASEAN Youth Advocates Network
Mock COP26 Event - Included seminars and workshops designed to empower the youth to get involved with climate change action and transform their goals into real and practical policies that can be implemented within the ASEAN region.
Green Brunei
Youth led platform for environmental sustainability, the organisation held various programs and activities such as tree planting, clean ups and recycling drive, educational programs that promotes climate change action
BIG BWN / Zero Waste Brunei
Youth and community Development, entrepreneurship, and environmental awareness project Brunei Darussalam, the organisation launch various campaigns to encourage the public to refuse, reuse reduce and recycle and be mindful of waste from going into the landfills.
Bruwild
Biodiversity and Natural History Society, the organisation protect biodiversity through education, mitigate issues threatning the health of Brunei's ocean
- Brunei Fertilizer Induestries
- Brunei Gas Carriers
- Brunei LNG
- Brunei Methanol Company
- Brunei Shell Marketing
- Brunei Shell Petroleum
- Hengyi Industries
- Petronas Carigali Brunei Ltd
Report their emission to Industrial Emission Committee (IEC) who are handling S1 Industrial Emission in BNCCP
Publications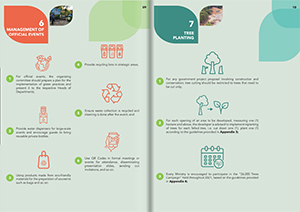 Protokol Hijau, 2021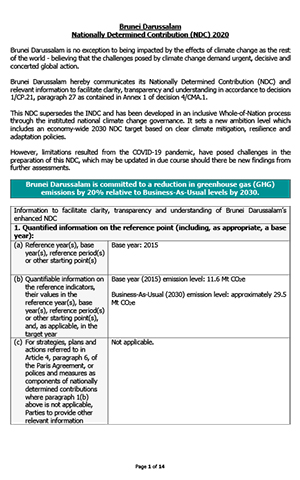 Nationally Determined Contributions (NDC), 2020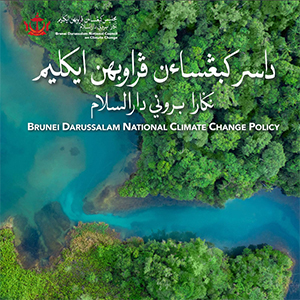 Brunei Darussalam National Climate Change Policy (BNCCP), 2020
Office in charge
Climate Change

Brunei Climate Change Secretariat, Prime Minister Office
(As of 14 Nov. 2022)